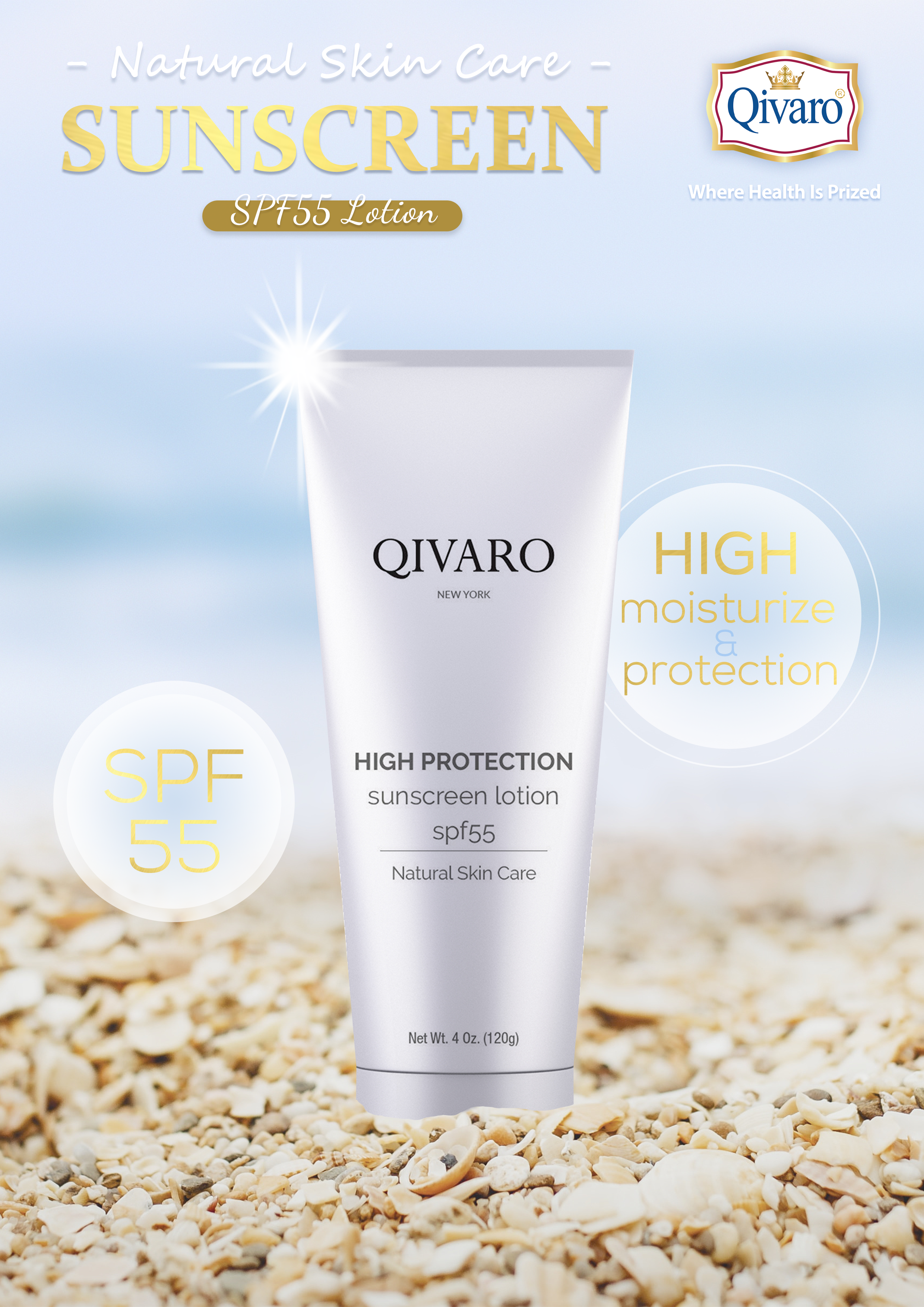 SC710003 - Sunscreen Lotion SPF55 (120 ml)
---
The sun is important for the body in many ways and encourages many enjoyable outdoor activities. However, as most know, frequent sun exposure can potentially cause harm to the skin. The two most important elements in a highly effective sunscreen are broad spectrum protection and water resistant properties.

Qivaro's Sunscreen Lotion Broad Spectrum SPF 55 is a dynamic sun protection formula developed to effectively safeguard the skin from the unrelenting influence of the sun by providing broad spectrum protection in a long wearing formula.
The Sunscreen Lotion SPF 55 combines the unique barrier forming properties of Zinc Oxide along with Octinoxate for additional UV protection.
Assimilated in a silky, lightweight lotion containing aloe vera and sunflower oil, the Sunscreen Lotion SPF 55 calms and nourishes the skin avoiding skin irritation and discomfort.
Active ingredients: 
Zinc Oxide 4.8%, Octinoxate 7.5
Inactive ingredients:
Water, Hydrogenated Polybutene, Octyl Stearate, Polyglyceryl-4-Isostearate, Aloe Barbadensis Leaf Extract, Isopropyl Palmitate, Cyclomethicone, Sunflower Oil, Hydrogenated Microcrystalline Wax, Cetyl Dimethicone Copolyol, Cetyl Dimethicone, Hydrogenated Castor Oil, Sodium Chloride, Polyglyceryl-3-Oleate, Silica, Hexyl Laurate, Triethoxycaprylylsilane, Capryly Glycol, Methylisothiazolinone.
Key Benefits
Broad spectrum protection
Moisturizes and soothes skin
Water resistant (up to 80 minutes)
Suggested Use
Apply frequently. Re-apply if active, sweaty, or after swimming.

Apply liberally and evenly 15 minutes before sun exposure. Reapply at least 80 minutes after swimming or sweating, immediately after towel drying, and at least every 2 hours.


This product has no reviews yet.