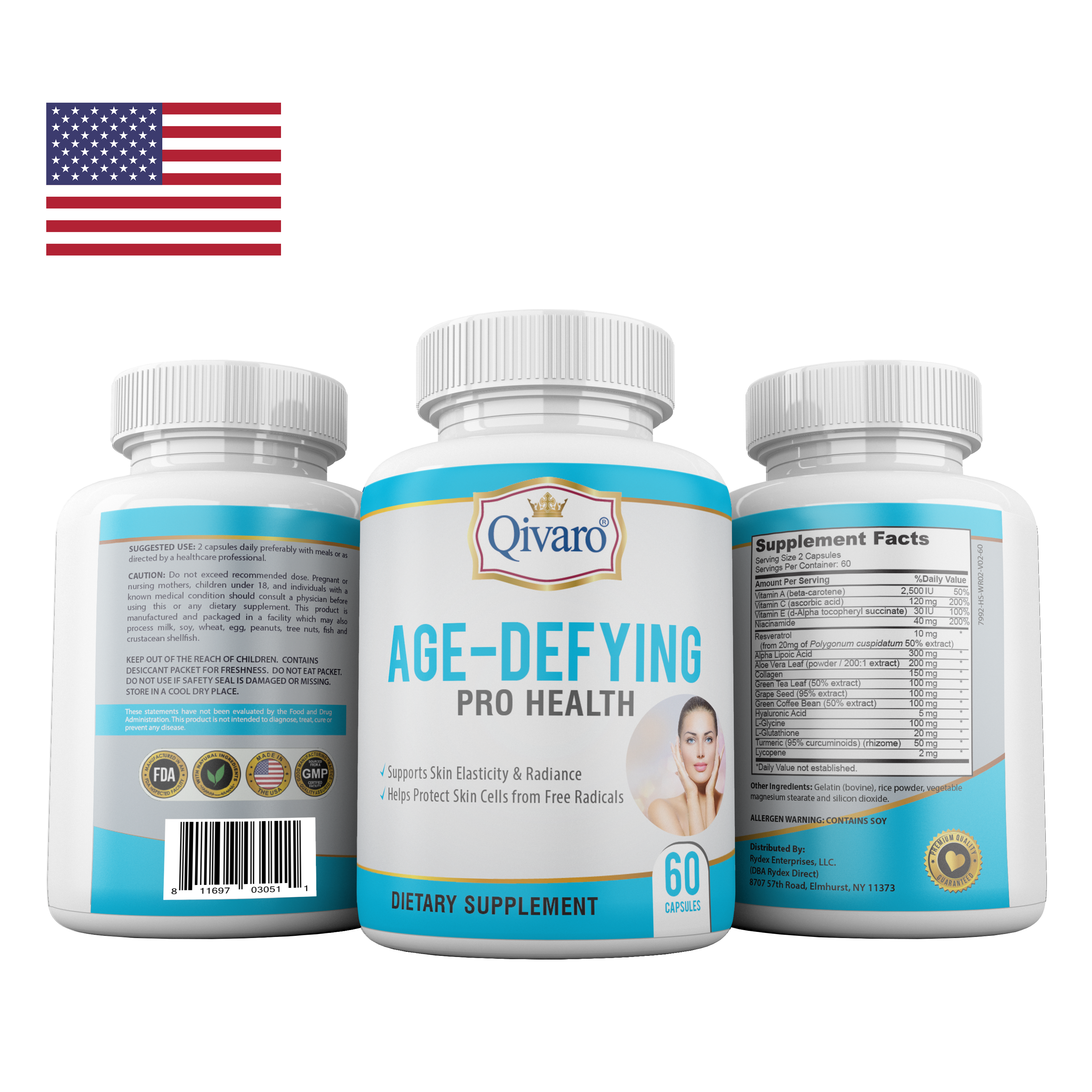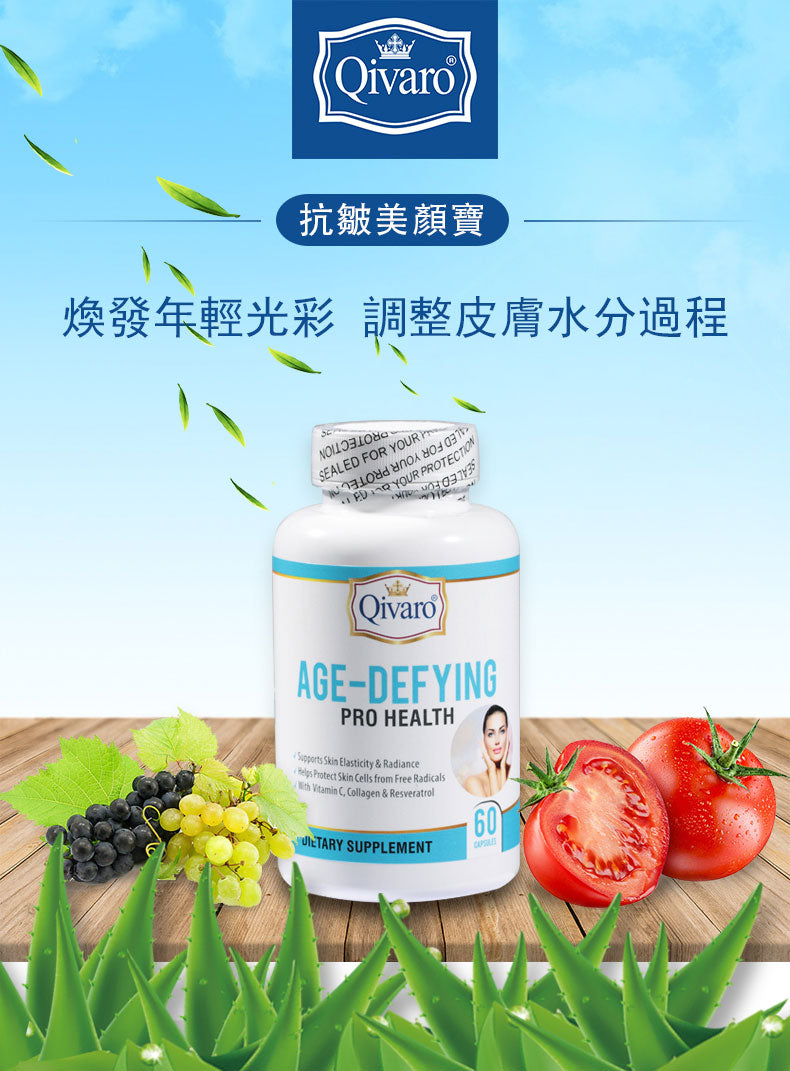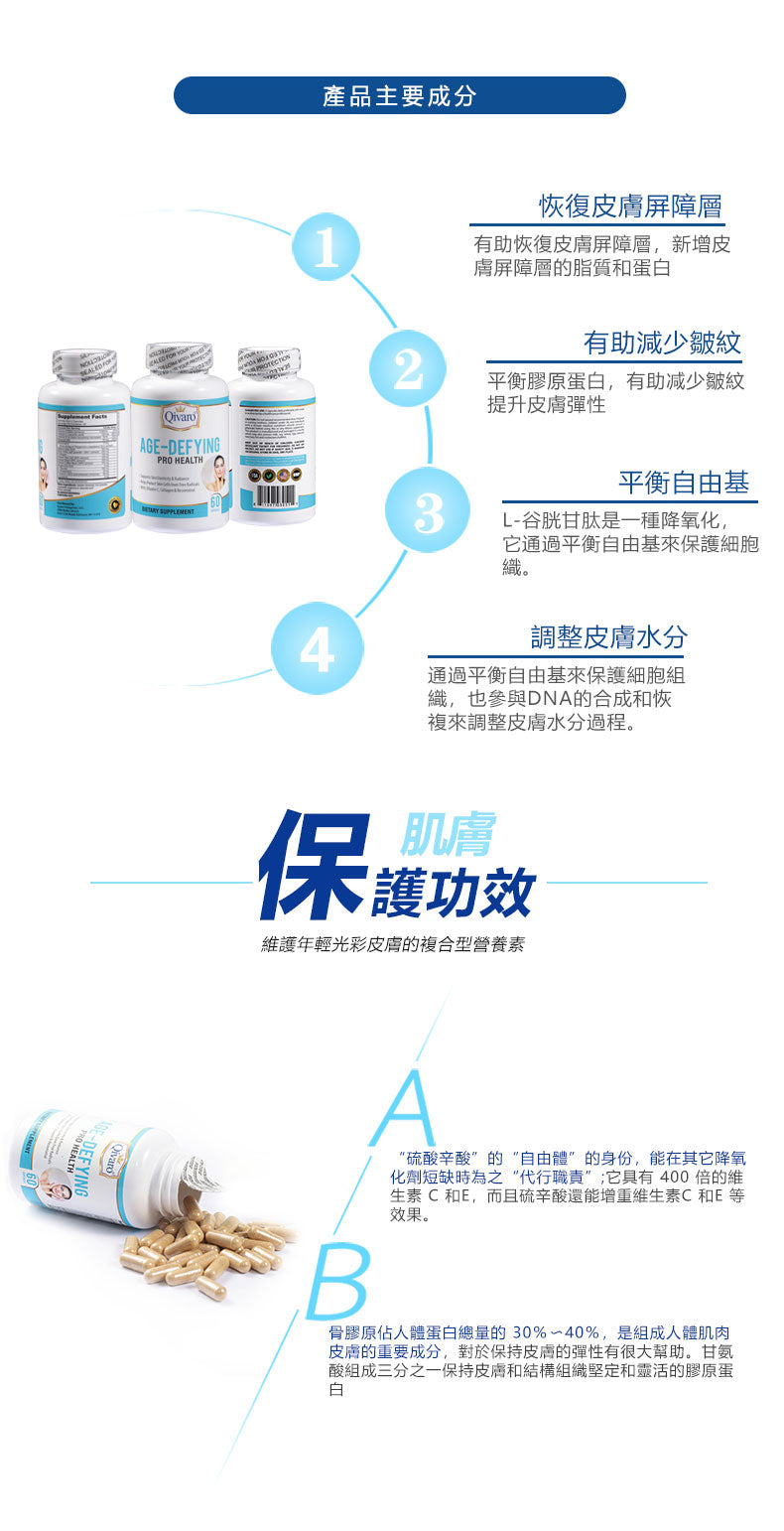 Combo 3-in-1 Pack: QIH42A Age-Defying
---
Qivaro 抗皺美顏寶是維護年輕光彩皮膚的複合型營養素。煙酰胺作為細胞溝通因子,具有乾擾異常色素沉著的功效,有助修復皮膚屏障層,增加皮膚屏障層的脂質和蛋白。 "硫酸辛酸"的"自由體"的身份,能在其它抗氧化劑短缺時為之"代行職責";它具有 400 倍的維生素 C 和 E 的抗氧化作用,而且硫辛酸還能大量增加維生素 C 和 E 等抗氧化成份的效果,硫辛酸的作用也可以其它抗氧化劑來得持久。骨膠原佔人體蛋白總量的 30%〜40%,是組成人體肌肉,皮膚的重要成分,對於保持皮膚的彈性有很大幫助。甘氨酸組成三分之一保持皮膚和結構組織堅定和靈活的膠原蛋白。L-穀胱甘肽的還是一種強力抗氧化劑,它通過中和自由基來保護細胞組織,也參與 DNA 的合成和修復來延緩衰老過程。
每日服用兩粒 Qivaro 抗皺美顏寶,有助促進皮膚代謝,加速膠原新生,有助改善色素斑,改善皺紋,改善紅斑等刺激症狀。 
主要成份:α硫辛酸,蘆薈提取物,膠原蛋白,綠茶葉,葡萄籽,綠咖啡豆提取物,透明質酸,L-甘氨酸,L-穀胱甘肽,薑黃,白藜蘆醇,番茄紅素。多種維他命維生素 C,煙酰胺,E,A。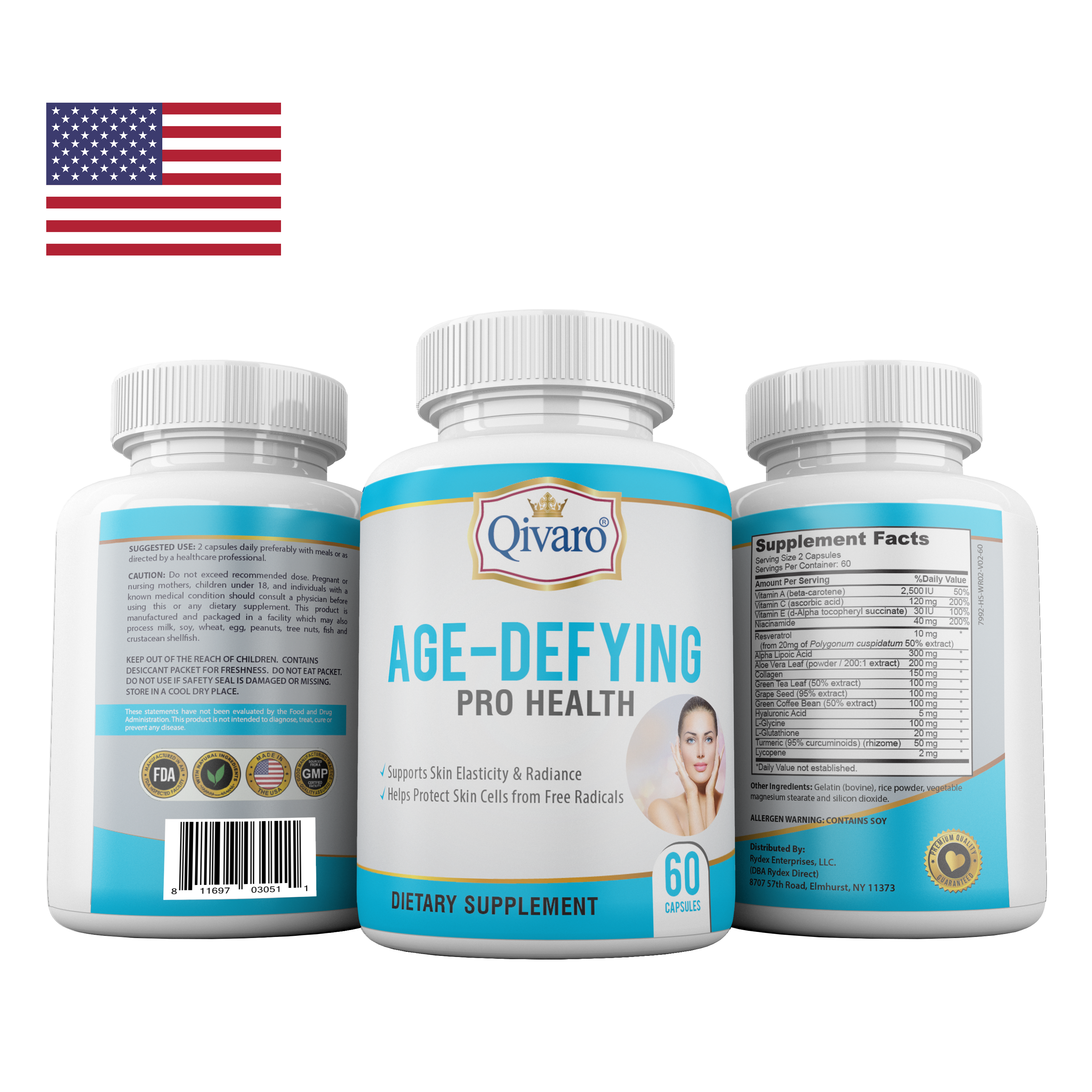 Key Benefits
是維護年輕光彩皮膚的複合型營養素。
有助修復皮膚屏障,增加皮膚屏障層的脂質和膠原蛋白。
有助減少皺紋,改善皮膚彈性,减少色素斑和紅斑等刺激症狀。
通過中和自由基來保護細胞組織,也參與 DNA 的合成和修復來延緩衰老過程。
Suggested Use
1 capsule taken 1 to 2 times daily, preferably with meals or as directed by a healthcare professional.
Caution
Take only as directed. Do not exceed suggested dosage.

Store in a cool, dry place. Keep out of the reach of children. Do not use if safety seal is damaged or missing.

Pregnant or nursing mothers, children under 18 or individuals with a known medical condition should consult a physician before using this or any dietary supplement.

This product is manufactured and packaged in a facility which may also process milk, soy, wheat, egg, peanuts, tree nuts, fish, and crustacean shellfish.
Disclaimer
This product is not registered under the Pharmacy and Poisons Ordinance or the Chinese Medicine Ordinance. Any claim made for it has not been subject to evaluation for such registration. This product is not intended to diagnose, treat or prevent any disease.
This product has no reviews yet.